Free Virtual Event: Learn about a different approach to depression
In this live virtual educational event, you will learn about Vagus Nerve Stimulation (VNS) Therapy and the importance of the peer voice in research studies and clinical trials. Join us to hear from a person currently receiving VNS therapy and a healthcare professional specializing in the treatment. You will also learn what to expect as a peer in a clinical trial and how to participate in research opportunities.
Join us live on Facebook or YouTube on March 24, 2021 4:30 PM ET
Help DBSA with just 10 minutes of your time
As you know, a cornerstone of DBSA's work is to elevate the peer voice for those living with mood disorders. That is why, during this time when mental health resources and outreach are more important than ever, we are asking you to provide feedback about our services and how we can increase our reach and support in the year ahead.
The survey will close on Monday, March 22, 2021.
The survey is anonymous. We hope you will take a few minutes to share your thoughts. In recognition of your time, you will have the opportunity to win one of five $25 Amazon gift cards. Thank you for your help!
Robert R. McCormick Foundation and Boeing Bolster DBSA Veteran Strength Program
DBSA is sending our thanks to the Robert R. McCormick Foundation and Boeing for their investments in DBSA's Veteran Strength program. As access to mental health care continues to prove insufficient, the Veteran Strength program creates opportunities for justice-involved veterans to both receive and be trained in the evidence-based practice of peer support. 
DBSA trains Peer Support Specialists to use their own lived experiences as justice-involved veterans living with a mental health condition to support other veterans on Chicago's south and west sides. As trusted and motivating role models, they will help their peers navigate often-confusing health care systems, develop recovery and wellness plans, identify community resources, and more.
Peer Support Specialist training and practice working in the field are integral steps towards certification as a Veteran Peer Support Specialist. By providing living wage stipends while working towards certification, DBSA's Veteran Strength program creates a clear path towards gainful employment and enhances the under-utilized Peer Support Specialist workforce. As veterans work towards certification by providing support services in the community, they help increase access to mental health services for those who need it. 
Thank you to the Robert R. McCormick Foundation and Boeing for making this work possible! 
Life Unlimited: Nicolette Rivera 
The summer of 2021 will mark 20 years of my living with Major Depressive Disorder and Generalized Anxiety and Panic Disorder. I was diagnosed at 19 years old, right before starting my second year of college. It started with what I would later understand as psychosomatic symptoms such as headaches or an upset stomach. That progressed to eating less and losing weight. Soon I found myself overwhelmed by unexplainable and persistent sadness. I would cry for hours in my room, suffering in silence, praying for peace in my mind and heart.
During the earlier years of my diagnosis, I struggled most with finding a medication that worked for me and remaining compliant with treatment. As soon as I began feeling better, I'd interrupt my progress by stopping meds and therapy. I didn't want to take a pill everyday to help me function and even though therapy was helpful, my inconsistency never allowed me to fully benefit from it. There were several times when I was unemployed, without health insurance and unable to access the invaluable treatment I desperately needed. 
DBSA Advocates for Access to Medical Products That Can Improve Outcomes
Approximately 25% of Americans find it difficult to afford prescription drugs due to high out-of-pocket costs. This burden can be a matter of life and death as many people are forced to choose between treating a mental health condition and a physical condition because they cannot afford to treat both. DBSA is working to counter the exclusion of SSRIs from accepted pharmaceutical lists and the use of AAPs, which direct savings away from individuals.
What Are Formularies
One factor that can drive up out-of-pocket costs is the need to purchase a medication that does not appear on payors' formularies, their list of medications that an insurer or other payor will cover. Formularies have tiers, meaning medications on different tiers are covered at different out-of-pocket rates. If a medication does not appear on this list, then it is not covered at all. This means the individual is required to pay for that medication completely out-of-pocket or choose another, less optimal medication.
Earlier this year, DBSA wrote a letter to CVS Caremark, a large and influential pharmacy benefit manager (PBM), asking them to examine all the ramifications associated with their formulary decisions. We outlined why selective serotonin reuptake inhibitors (SSRIs) and other antidepressants must not be excluded from formularies.
Earlier this year, DBSA wrote a letter to CVS Caremark, a large and influential pharmacy benefit manager (PBM), asking them to examine all the ramifications associated with their formulary decisions. We outlined why selective serotonin reuptake inhibitors (SSRIs) and other antidepressants must not be excluded from formularies. 
What is Copay Assistance
Millions of Americans across the country rely on cost-sharing assistance to afford their medications from copayment assistance programs. A copay or coinsurance is the amount a person is required to pay at the pharmacy counter in addition to the coverage they have from their insurer or payor. Cost-sharing assistance is generally provided by the medication maker to help cover some of those out-of-pocket expenses for people who qualify. 
Some PBMs and insurers use an accumulator adjustment program (AAP), which redirects those cost savings to the payor and away from the individual by not counting that assistance toward deductibles−the amount an individual must pay before the insurance kicks in−or maximum out-out-pockets limits.
Late last year, DBSA wrote a separate letter to United Healthcare (UHC) to strongly encourage them to stop using AAPs for Medicare Part D beneficiaries.
Both policies outlined above limit access to treatment options. These policies create barriers to providing the best wellness outcomes, especially problematic during the COVID-19 pandemic when unemployment is increasing every week, and people are struggling more than ever to afford their medications. 
Why DBSA Fights for Access
Ideally, doctors and patients discuss treatment options in a process known as shared decision-making (SDM), which accounts for the individual's needs, values, and preferences. Both policies outlined above ignore the most important person involved. "Better" is not always synonymous with "well." DBSA encourages all policymakers, including payors and providers, to focus on whole health and maximizing positive health outcomes that empower and equip individuals to take charge of their health and well-being and live their lives to the fullest.
Your Voice Can Make a Difference
Please support this work by forwarding this message to colleagues, family, and friends who are passionate about this cause to assist us in the grassroots effort to make our voice heard.
To continue to receive communications about issues that support access to quality mental health care,
8 Tips on Setting Boundaries for Your Mental Health
Boundaries are defined rules or limits that someone establishes to protect their security and wellbeing around others; we identify and express how others can behave around us so that we feel safe. Boundaries can include setting expectations about how much alone time you need in a romantic relationship, preventing family members from speaking negatively about loved ones, or establishing physical safety measures when spending time together. They can be an important tool to help us feel secure in our surroundings and with other people, creating an environment for each person to be themselves and have their needs met.
Here are some tips for establishing boundaries:
Give yourself permission to focus on yourself

and make your safety and comfort a priority. At times, we stretch our boundaries or postpone setting and enforcing boundaries because we feel guilt or fear a negative response. In reality, boundaries not only contribute to healthy relationships with others, but they also bolster self-respect and self-love! 

Practice self-awareness.

Listen to your gut! Part of creating boundaries is prioritizing your comfort so you can feel safe and be present with others.But in order to do that you need to acknowledge your feelings and honor them. What makes you feel safe? What makes you feel uncomfortable? Remember that boundaries can shift and change as you grow; allow this to happen and hold space to recognize and sit in these feelings.
Youth Mental Health After One Year of COVID-19
Twice a month, Balanced Mind Parent Network members receive a DBSA newsletter that includes relevant news about youth mental health. At the beginning of March 2020, it would have been hard to imagine the headlines that eventually emerged. Even before the global pandemic, we became increasingly aware of and concerned about young people's mental health. Suicide rates have been increasing in teens and young adults. Instances of insurance claims for depression, anxiety, and substance use disorder have steadily climbed. Suddenly, throughout the past year, children, teens, and young adults had their worlds turned upside down and caregivers faced more responsibilities and demands than ever. 
It will be some time before we can fully comprehend what the loss of last year will mean in the lives of children, teens, and young adults. But despite the grief, fear, loneliness, illness, and suffering the last year brought, it also took us to new places of understanding. Before the pandemic, the media didn't often cover mental health topics. Workplaces didn't acknowledge the mental health needs of their workers as openly. School systems weren't as keenly aware of what mental health concerns look like in children. This anniversary may bring up many emotions, all of which are valid. No two people have had the same experience during the pandemic, but we can find community in our collective understanding of all the fears, grief, and loss we felt. With newfound awareness, maybe there can be progress in how we as a culture approach mental health. We can hope for a future that invites further progress regarding how we treat, talk about, and understand mental health. 
Consider taking the time to honor how far you have come in the last year. Here are some  suggestions for how you might consider recognizing this milestone with DBSA programs and resources:
However you decide to honor a year of living through a pandemic, know that DBSA is here to help. We can only hope that the challenges of the past year bring about the change needed to create a kinder world for those living with depression and bipolar. 

Mood Crew Monthly: Take a Trip With Angry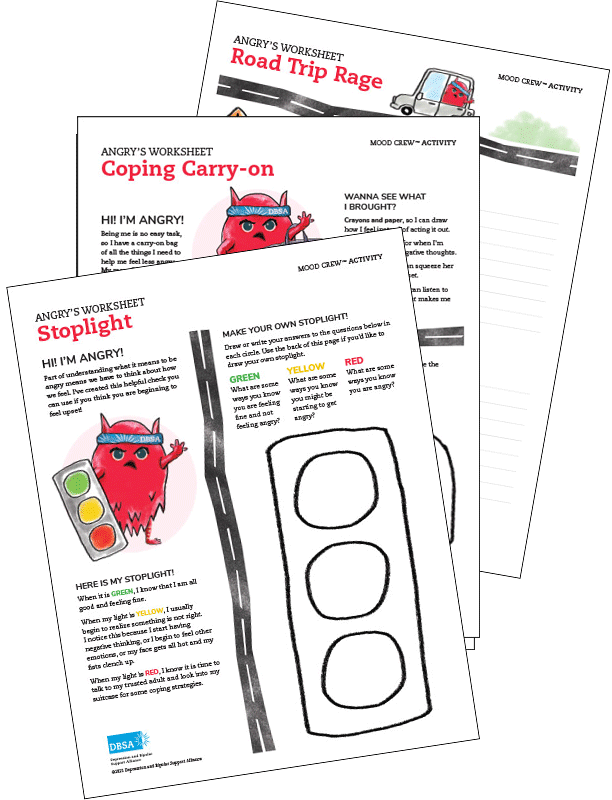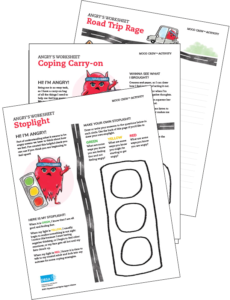 Dealing with feelings of anger can be difficult for everyone. It is common for anger to emerge more often when kids are experiencing a challenging time. This is why Angry of DBSA's Mood Crew is so excited to share her new resource! Angry has taken a cognitive-behavioral (CBT) approach to anger management. With this approach, Angry guides us to understand the negative thinking and emotional, physical, and behavioral responses associated with a triggering event that causes us to feel anger.
Get ready to take a trip with Angry as she explores how she copes with her angry disposition. Check out this new resource!
Wellness Tips from the DBSA Wellness Wheel
Social Wellness
Do you have a relationship that requires you to create more defined boundaries? Think about ways in which you can have a healthy conversation with someone to speak honestly and kindly about your needs.
Financial Wellness
Do you have a subscription you aren't using? Review your spending and consider cutting out unused subscriptions and allocating that money to a savings account. 
Environmental Wellness
A walk around the block can have a positive impact on your day. Feeling restless? Need some inspiration? Spending time outdoors can really be mood-lifting.
Continue your path to wellness with the DBSA Wellness Toolbox. Explore each aspect of your wellness by creating your own Wellness Wheel and keep track of your mood and wellbeing with the Wellness Tracker.

Explore the Wellness Toolbox
Save the Dates: 2021 DBSA Leadership Summit Week
DBSA's 2021 Leadership Summit will be virtual – and now offers a week of sessions, September 27 – October 1!
What does that mean for you? More sessions, more topics, more fun, all from the comfort of home!
Featured offerings will cover the following topics:
Advocacy
Supporting Youth Mental Health
Chapter Leadership
Facilitator Training
Join us for fun, too! You won't want to miss:
A Nutrition and Cooking Class
Mindfulness Meditation Session
Open Mic Night to close the week