BIPOC Mental Health Month Resource Guide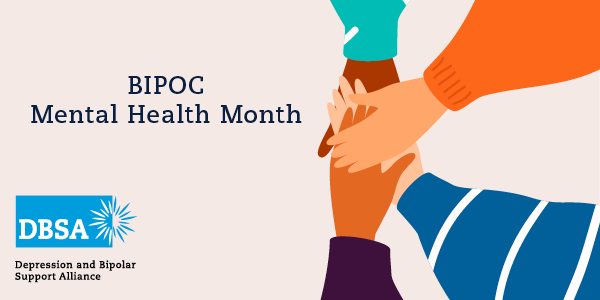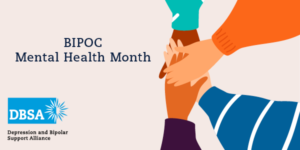 Everyone deserves access to quality mental health care. In honor of BIPOC Mental Health Month, DBSA is expanding services and sharing resources to address the unique needs of BIPOC communities. 
You can be part of our effort to provide culturally competent support for peers by making a contribution today. With your gift, you'll be strengthening under-resourced communities working to achieve mental health wellness on their own terms.
DBSA Resources
DBSA Statement – Racism a threat to our nation's mental health
DBSA Black Community Mental Health Support Groups
More Resources
Asian American Psychological Association
Asian Mental Health Collective
Asian American Health Initiative Mental Health Guide
The Black Virtual Wellness Directory
National Alliance for Hispanic Health 
One Sky Center (503-970-7895) find a therapist 

Supporting Youth Mental Health: A Return to Normal
What does a "return to normal" look like? Transitioning out of 16+ months of nontraditional schooling has the potential to be disorienting and challenging, especially for kids already experiencing depression, anxiety, or bipolar disorder. Having a plan in place can help make the transition to in-person instruction go more smoothly. 
Refocus on Relationships
Children and adults alike experienced a great deal of isolation during the pandemic. For many, it will be a big adjustment to return to our previous levels of socialization. Students who have been deprived of meaningful social connections in the school settings will have the opportunity to engage again. For some students, this might be a welcome change; others may be feeling a bit more anxiety about diving back into social life. Having a conversation with your child about their social life can help you to get a better sense of whether they are eager to socialize or if they may be feeling a bit apprehensive. Try not to overschedule your child with activities or social plans without first getting an understanding of how they're feeling about returning to these activities. 
Adjust Academic Expectations
Students in the past 16 months may have had a lot of challenges focusing on academics. Especially for students who had trouble with hybrid-model learning, some may be feeling a bit behind. While it is important to encourage good habits to support your student, academics might need to temporarily take a back seat. Have a discussion with your child about any concerns they have about academics in the upcoming school year. Set yourself and your student up for success by managing expectations on academic performance. 
Reinforce Resilience
Remind your child of all the obstacles they overcame during this challenging time. Your child has already likely demonstrated great resilience, whether that was by overcoming the fear of speaking on zoom or reaching out to a teacher to ask for help. Remind yourself and your child of the anxieties they have overcome as evidence that they can tackle what lies ahead.

Congress Passes Funding to Address Pandemic Mental Health Crisis
Our nation's health has suffered enormously during the COVID-19 pandemic. Mental health is no exception. 
The Kaiser Family Foundation found roughly four out of ten adults reported symptoms of anxiety or depression during the pandemic, compared to one in ten in January of 2019. The U.S. Government Accountability Office reported the shares of emergency department visits for drug overdoses and suicidality were 35 and 26 percent higher, respectively, from March through October 2020, compared to the same period in 2019.
Congress and the Biden administration have responded by pumping new money directly into the behavioral health system through new funding and enhanced health insurance reimbursements for mental health providers.
In April, Congress passed the American Rescue Plan. Critical mental health provisions included:
$3 billion for Substance Abuse and Mental Health Services Administration (SAMHSA) block grants. These funds are sent to state programs and can be used to support a range of peer programs

$420 million for Certified Community Behavioral Health Clinics (CCBHCs), enhancing a critical component of the crisis intervention system

 

More than $450 million in additional funding for SAMHSA and Health Resources and Services Administration (HRSA) programming, including funding for mental health services, workforce education and training, suicide prevention, and public education campaigns
Congress also expanded subsidies for people who need affordable health insurance. Eligible COBRA participants (those who have been laid off, furloughed, or had a reduction in hours) can stay on their employer's insurance plan, cost-free, through the end of September 2021.
Additionally, Medicaid and Medicare programs made changes allowing for more flexibility to use telemedicine resources and funding assistance for state programs. However, these changes need further action to make them permanent. 
DBSA is working with various federal agencies to ensure these initiatives include funding opportunities to support peer support groups and developing the peer specialist workforce.
Here's how you can help:
Contact your state mental health agency to see how you can shape the programs and services needed by people living with mood disorders

Contact your local or county department of mental health to ask how you can serve on a citizens' mental health board

 

All CCBHCs are required to include people with the lived experience of a mental health or substance use disorder on their boards. Contact a CCBHC in your community to learn how you can serve
Your Voice Can Make a Difference
Please support this work by forwarding this message to colleagues, family, and friends who are passionate about the cause to assist us in  the grassroots effort to make our voice heard.
To continue to receive communications about issues that support access to quality mental health care,
Creating Healthier Communities Grant Announcement
DBSA is honored to receive a #ForHealthEquity grant awarded by CHC: Creating Healthier Communities in a competitive nationwide grant process. Grant funds will be used to advance health equity and create healthier communities by expanding the capacity of DBSA's national online peer support groups specifically for Black individuals. 
Peer support offers a level of acceptance, understanding, and validation not often found in other mental health care models. DBSA groups are recovery-focused with a goal of empowering individuals to seek their own path to wellness, and afford people living with a mood disorder a place to share experiences, discuss coping skills, and offer hope to one another.
With a rise in mental health-related concerns, a continued shortage of mental health care professionals, the high cost of services, and ongoing disparities in Black communities, there is a rapidly growing need for free, culturally competent services and resources. We're grateful to organizations like CHC: Creating Healthier Communities for recognizing this need and their investment in mental health equity.
"We're proud to support DBSA to help further their terrific work in the community," said Shelley Hayes, chief engagement officer at CHC: Creating Healthier Communities. "They're an outstanding partner organization, and we look forward to continuing to work together."
 To learn more about CHC and their #ForHealthEquity campaign, visit their website.

I'm Living Proof: Young Men Can Heal Too
In this episode of I'm Living Proof: A Letter to My Younger Self, we hear from Johnny about what it took for him to overcome obstacles and find wellness. Having navigated guilt and shame surrounding his mental health difficulties, Johnny is now an outspoken advocate for those struggling like he once did. Read Johnny's letter.
Mood Crew Monthly: Address Anxiety With Worried
Calming a child's anxiety can be challenging. Worried's new resources can help guide children to better understand anxiety and build skills to manage their worries in the future. Worried's new resources ask children to recognize what is worrying them, reason with these worries, and find a way to rewrite them so worries feel less intense.
Resources For Your Financial Well-Being
Your financial well-being is an important part of your overall welfare. If you're feeling overwhelmed or just need help reviewing financial goals, we have some tools to help.
There is no time like the present to get on track and stay on track with your financial health.

Wellness Tips From The DBSA Wellness Wheel
Physical Wellness
Wake and hydrate! Drinking a glass of water right when you wake up can be a great way to kickstart your day. 
Social Wellness
Let a friend know how much you appreciate them. Sharing gratitude with the people we love can go a long way to support our social wellness. 
Occupational Wellness 
Set a timer! Having trouble focusing at work? Set a timer for 45 minutes to get work done, then take a 15-minute break when the timer goes off. 
Continue your path to wellness with the DBSA Wellness Toolbox. Explore each aspect of your wellness by creating your own Wellness Wheel and keep track of your mood and wellbeing with the Wellness Tracker.

Explore the Wellness Toolbox