Support For You: Dual Diagnosis
A Dual Diagnosis or co-occurring disorder usually refers to someone living with a mood disorder (depression or bipolar) and a substance use disorder. Nearly one-third of people living with a substance use disorder also live with major depression, yet more than half aren't receiving mental health care or substance use treatment. 
In an effort to provide support to peers wherever they are, DBSA has expanded our free online support groups to include meetings for peers living with a dual diagnosis. It is vital that DBSA provide space for all peers and that peers find support in the DBSA community. If you or a loved one is looking for support, please review our peer-led online support groups. 
Your gift will help fund our free specialized support groups and other wellness resources, such as our podcasts and Facebook Live events, to ensure that people living with a dual diagnosis receive the support they need to thrive. 
Join us for the 2021 Leadership Summit


The 2021 DBSA Leadership Summit has expanded into a weeklong event with more than 40 sessions for everyone, including people living with mood disorders, their families and caregivers, mental health advocates, clinicians, and DBSA chapter leaders and members. The summit will take place virtually from Sept. 27 through Oct. 1.  
As a registered attendee, you'll get:
Practical tools for improving your mental health

Your choice from a wealth of sessions covering wellness, advocacy, and leadership, including sessions on "Know Your Rights: Addressing Mental Health Discrimination in the Workplace and at Home," and "Mental Health Equity: Access and Outcome Disparities in Black Communities."

Tactics for supporting people living with mood disorders

Access to fun stuff, like a cooking class, meditation circle, and comedy showcase
The chance to meet and network with other mental health advocates
You will also hear from keynote speaker and three-time Emmy-award-winning actor Maurice Benard of ABC's General Hospital, who will be participating in an interview about his experiences living with bipolar disorder.
Learn more and register here. We hope to see you there!
DBSA Advocacy Supports Access to Veteran Peer Support Services
As the largest employer of Veteran peer specialists, the Department of Veterans Affairs (VA) medical facilities are strong champions of peer support services provided by Veteran peer specialists. These highly trained Veterans use their own recovery experience and acquired skills to model recovery, teach skills and assist other Veterans on their recovery paths. They accomplish this by building community, sharing their experiences, discussing coping skills, and offering hope to one another. Participation in these services is generally part of an individual's recovery and wellness plan. It is not meant to replace clinical treatment options but, rather, work in tandem with counseling and other services.
 This year, DBSA furthered its advocacy initiative begun in 2017 to support the Veteran PEER Act—legislation that increased the number of Veteran peer specialists at VA medical facilities—by supporting the introduction of the Veteran Peer Specialist Act of 2021.
This bipartisan legislation was introduced in both the U.S. Senate and House on July 20. DBSA supported the legislation with a grassroots program asking for support from veteran service organizations and mental health organizations, resulting in more than a dozen endorsements thus far.
The new Veteran peer legislation increases access to peer support services by increasing the number of Veteran peer specialists at all 153 VA medical facilities over a five-year period and authorizes $5 million to ensure the VA has adequate funding to implement the program. The legislation also requires the VA to provide annual reports to Congress which track the progress of the program and assess the benefits to Veterans and their family members and the effectiveness of Veteran peer specialists in engaging with health care providers in the community.
 DBSA Peer Apprentice Program Supports the New Legislation
The Veteran Peer Specialist Act of 2021 will require certified Veteran peer specialists to fill these positions. The pathway to certification includes taking a VA-approved Veteran peer specialist course and one full year of supervised experience providing Veteran peer support services.
While DBSA has a long-standing relationship with the VA to provide the 76-hour DBSA Veteran Peer Specialist course to VA employees and to non-employees, the full year of supervision is an obstacle for many Veterans.
Recognizing this as an obstacle for both Veterans and civilians, DBSA has risen to the challenge by introducing the DBSA Peer Apprentice Program. The inaugural two-year apprenticeship program will enroll apprentices in the DBSA Peer Specialist course and provide supervised training and educational support for four individuals in Cook County, Illinois. The apprentice program allows peer specialist apprentices to gain the necessary supervised hours to apply for the Illinois Certified Recovery Support Specialist (CRSS) credential or become a certified Veteran peer specialist. Apprentices gain experience in mental health advocacy, peer mentoring, peer recovery, and wellness support. The inaugural apprenticeship cohort officially launched on August 2.
Heading up this program is DBSA's newest team member, Robert Dabney, Jr., Peer Apprentice Program Manager. Robert is an Army Veteran and has experience as a professional healthcare chaplain. He holds a Master of Divinity and a Master of Arts in Communication and is a strong advocate for mental health and holistic wellness.
 Stay tuned for updates on the legislation and the progress of this exciting program.
 Your Voice Can Make a Difference
 Please support this work by forwarding this message to colleagues, family, and friends who are passionate about this cause to assist us in the grassroots effort to make our voice heard.
 To continue to receive communications about issues that support access to quality mental health care,
Supporting Youth Mental Health at the 2021 DBSA Leadership Summit
This year, DBSA's Virtual Leadership Summit has been expanded to a full week, September 27-October 1, offering more sessions that will provide inspiration on how we can better support youth mental health. Attendees from a variety of backgrounds can find education, support, and community during DBSA's virtual conference. Outlined below are some sessions you may enjoy, especially if you are the caregiver to a young person living with a mood disorder diagnosis. 
Preventing Caregiver Burnout and Compassion Fatigue
In this session, leading experts will help us understand the terms caregiver burnout and compassion fatigue. . We'll explore the causes and signs of burnout or compassion fatigue, and offer strategies to caregivers on how to prevent burnout and compassion fatigue. 
Transition Ages: Challenges Facing Young Adults Living with Depression and Bipolar
The DBSA Young Adult Council (YAC) created this session to discuss important topics that relate to transitioning to independent living as a young adult living with a mood disorder. We'll hear from YAC members about their experiences during significant times of transition, e.g.,  moving to college, moving out of the family home, graduating from college, entering the workforce, and taking time off from school. Attendees can expect to take away important information about what was helpful during these transitions and what could have been useful to our panelists. 
I'm Living Proof: A Letter to My Younger Self Panel Discussion
DBSA's new series, I'm Living Proof: A Letter to My Younger Self is a blog and podcast series that shares the experiences of young adults living with a mood disorder. In the series, young adults write a letter to their younger selves to document what they wish they had known at an earlier age and what they have learned along the way.  In this Leadership Summit session, we will hear from all the young adults who have contributed to the series thus far about their experiences sharing their stories. 
Voices of Parents in Recovery as a Catalyst for Change
In collaboration with the DBSA Boston Chapter, we will screen the short film Parenting in Recovery as a Catalyst for Change. The film, developed by the Center of Excellence for Psychosocial and Systemic Research at Massachusetts General Hospital, is a peer-led initiative made to raise awareness about the challenges parents living with mental health conditions face.  From stigma to balancing parenting within their own wellness journey, the film explores how caregivers have found the tools and hope to cope with challenging situations. The screening will be followed by a panel discussion of the film. 
I'm Living Proof: Navigating Through the Darkness
For Maddie, her wellness journey "isn't necessarily about 'reaching the other side', but rather learning to navigate the darkness of depression." Having dealt with panic attacks, depression, and anxiety, Maddie found the strength to ask for the help she needed. Now, she's sharing her story and celebrating the wide support network she found after her diagnosis. Read Maddie's letter to her younger self. Read Maddie's Letter
Your Story Has Power
DBSA wants to feature your story in the next episode of I'm Living Proof: A Letter to My Younger Self. While each person's wellness journey is different, your collective stories create a community. These stories can inspire hope, provide a place of comfort, encourage someone to seek resources, and let others know they are not alone. 
Mood Crew Back To School Resource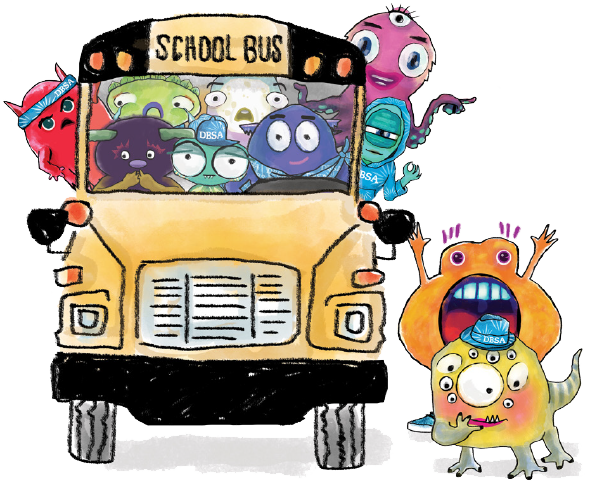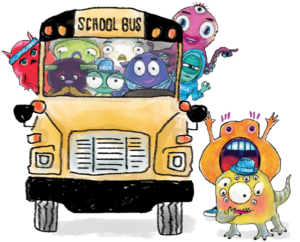 The return to in-classroom learning, following on the heels of a pandemic that closed most schools all of last year, is expected to generate lots of different emotions among students of all ages, especially the very young. The Mood Crew has created a series of Back-to-school resources to help children adjust emotionally to concerns related to making friends, studying with classmates, and learning new subjects. The new Mood Crew resources will help children experience how each member of the Mood Crew feels about starting the new school year.
Wellness Tips From The DBSA Wellness Wheel
Financial
Take time to review all your purchases in a given month. Being aware of your income and purchases can be a great first step to managing your budget.
Intellectual 
Check out a podcast! Listening to podcasts can be a great way to learn about subjects and topics that interest you. (DBSA has some great podcasts you can check out as well!)
Spiritual
Find an organization to volunteer for that aligns with your values. Supporting the work of a mission-driven organization you care about can provide a great sense of fulfillment. 
In addition to these wellness tips, we're excited to offer two special wellness sessions during our Leadership Summit!
Financial Wellness: Finances can be challenging. When symptoms of depression or bipolar interfere with money management it can feel even more overwhelming. In this session, we will dive into the financial wellness section of the DBSA Wellness Wheel and learn practical advice for managing money.
Physical Wellness: Our physical and mental health go hand in hand. Symptoms of a mood disorder can impact how we feel physically, which makes it hard to take care of our physical wellness. Physical Wellness is a part of the DBSA Wellness Wheel. Learn what steps we can take for our physical health to help improve our overall wellbeing.
Learn more about the Leadership Summit and register today!
Continue your path to wellness with the DBSA Wellness Toolbox. Explore each aspect of your wellness by creating your own Wellness Wheel and keep track of your mood and wellbeing with the Wellness Tracker.

Explore the Wellness Toolbox