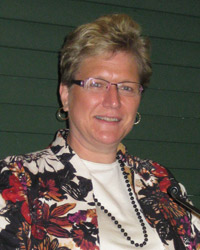 My name is Chris Jasikoff and I am being treated for major depression and social anxiety. My story begins way back in my childhood, when I thought I had to put on a "happy face" instead of expressing how I really felt. I was never really treated for my illness until I moved up to Massachusetts approximately 25 years ago and found an outstanding psychiatrist. Despite now being in Saratoga, NY, a 4-hour distance from where I was living before, my doctor still takes care of me.
My first hospitalization was a nightmare. I remember hitting the walls in the hospital and threatening to beat the windshield of a car—I was mad! After many years of enjoyment, I found work to become much more difficult. Anyway, my voice was taken away many years ago, leaving an empty, unhappy, depressed shell instead of the happy adult that I had pretended to be. On the outside I was happy and I was never able to express my true emotions. Thank goodness for my doctor, who worked diligently with me. Now I can speak openly about most things, but there are times when I sink into that shell and I still have trouble letting people in. I am working every day to fix this. Medication and psychotherapy really made a difference.
I am one of the founders of the Depression and Bipolar Support Alliance (DBSA) of Saratoga County, NY. We run three support groups, two of which are located in Clifton Park and one located in Saratoga Springs. Three years ago, the Clifton Park support group was started after a recent hospital stay. Two friends and I were talking one day at the hospital and we found that there weren't any support groups for people suffering from a mental health illness. So that night, I searched endlessly on the internet and the only thing that was remotely close to a support group was this organization called DBSA in Chicago, IL. After researching their website, it was very evident to me that I could start a chapter in a city of my own choice. I can remember that I was all excited about running a group, so I told the other lady who was interested about this idea. After speaking with her, we decided to base our support group in Clifton Park since it was mid-point between where our hometowns were located.
Soon after starting the Clifton Park group, I decided to get some additional training as a Certified Peer Specialist. And in February of 2009, I went down to St. Louis, Missouri, for a full week of Peer Specialist training. It was a very draining and yet a very exciting week. My skills as a peer support group facilitator and, later, as a peer counselor at a local hospital, had definitely improved! Not only did we start the Saratoga Springs support group, which was always my initial goal, but we then had an Annual Mental Health Awareness Walk held on March 21, 2011, which proved to be very successful. Through the walk, we promoted advocacy in our area! From the time I became engaged with DBSA, they have managed to keep me alive and well during these past few years! DBSA has definitely played an integral part in all of our support group activities. When help was needed, someone was always there with the answers or the know-how! Hats off to DBSA!