Times of uncertainty can affect your sense of wellbeing, but it's important to remember that you are not alone. DBSA is here to provide support and resources that can ease stress and help you feel connected to others. In this eUpdate, you will learn about our new COVID-19 portal, listen to peers talk about how they are coping with changes and learn about establishing daily routines that can help you and your loved ones feel healthier at home.
A note from Michael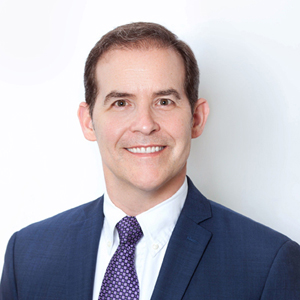 I've spent my career trying to live by one important mantra: Look forward to going to work each day. Like many of us, I find that work provides structure, relationships, and a sense of accomplishment. In this way, work can be a crucial component of our mental wellness. For the past several weeks, however, so many people have totally lost this element of daily life, and millions more are working in a disrupted environment where they must figure out how to both cope and produce.
Let me take this moment to thank the DBSA staff and volunteers for their work and commitment to ensure that we continue to fulfill our mission and responsibilities, particularly during such a troubling time for so many people living with mood disorders and other mental health conditions. I also want to thank our partners, donors, and the media for their focus and commitment to address mental health during this crisis. As you read through this month's issue of eUpdate, I hope you find new information, suggestions, and resources to help you or someone you care about manage through this difficult time. I'd ask that you also remember that so many people and organizations are working together each day to offer you hope, help, support, and education.
Be well.
Michael Pollock
DBSA Chief Executive Officer

New COVID-19 portal brings you tools, tips and inspiring stories
If you're looking for a stronger sense of connection right now, DBSA is here for you. Our online portal is filled with useful resources to support your wellness. Check it out and please share with friends, family and colleagues who could use a boost. 
Results of our recent survey, and a new opportunity to share your views
A special thank-you to 550+ members of the DBSA community, who told us what they need to manage stress and stay healthy. Here's a look at your responses, plus a new survey that measures how you're receiving mental health services while you shelter in place.




Are you using online health services? Help us learn more about your experiences by taking this 2-minute survey
Supporting Youth Mental Health: the value of daily routine
"What day is it?" Have you found yourself asking that question more often lately? As we are living through an unprecedented time period, with the majority of us being quarantined at home due to COVID-19, it is easy to see how we can lose track of the calendar. Calling our attention to our routines, especially now, can be an exercise in good mental health. Aside from this current moment in history, routines have been shown to be a leading coping skill in gaining and maintaining better mental health.
As you think about your routines, begin with your sleep habits. As one study states, "Disruption of sleep and circadian rhythmicity is a core feature of mood disorders and might be associated with increased susceptibility to such disorders." If you live with depression or bipolar or have a loved one who does, think about sleep as a cornerstone of good daily routines. Individuals who go to sleep and wake up at the same time daily are balancing their circadian rhythms in such a way that will benefit the whole day.
After considering your sleep habits, consider the bookends of your day: your morning and nighttime routines. Whether you are more of a morning person or night owl, it is helpful to establish a routine at the beginning and end of the day.
Think about establishing a morning routine that will help you ease into the day. For parents, is this a time of day when you may get some undistracted time? Think about adding a ritual to this time of day that you enjoy – something that will help you focus on the day ahead. Activities such as reading, stretching, exercise, or meditation can be useful in getting the energy for the day going.
When it comes to evening routines, think about what will help ease you into a good night's sleep. Nighttime is also a great time to get ready for the next day. Try tidying the kitchen, preparing meals in advance, or laying out your clothes for the next day so you feel prepared.
Families should remember that routines for children should be reasonable and flexible. Research shows that children learn best in periods of 20 to 30 minutes. Breaks with some physical activity should be added between productive time.
Many families are now nearing one month of physical distancing. If your family's routine does not feel perfect, do not worry. These times are unprecedented. For now, it is most important that we allow ourselves to feel our feelings and grieve if we need to.

DBSA's Young Adult Council talks about life during the health crisis
DBSA sat down with three Young Adult Council members to talk about the changes they're experiencing as a result of COVID-19. Their conversation covers the challenges of working from home, dealing with the sadness of canceled graduation plans, and the best ways to give and receive therapy while sheltering in place. Listen to the podcast on Apple Podcast, Spotify or wherever you get your podcasts.
DBSA advocates for peer support funding
During this national crisis, Congress has been hard at work creating packages to bring economic relief to those experiencing financial distress, including paid sick leave and expanded unemployment insurance for many. However, with the exception of Medicare and Medicaid coverage for telephone and video chat visits with health providers and $425 million for a range of SAMHSA programs, Congress has not yet addressed mental health needs.
Meanwhile, in our communities, DBSA chapter affiliates are doing a heroic job transitioning to virtual meetings, and DBSA national is opening more online meetings. Yet despite these efforts, access is not keeping pace with demand. In the past several weeks, registrations for DBSA's national online support groups – which people can access from anywhere – have doubled, and the waiting list for these meetings has grown by 166%.
To address this disparity, DBSA sent a letter to congressional leaders on April 6, outlining the hardship that physical distancing has on people living with mood disorders and asking for funding to shore up local chapters and enable DBSA national to provide more online support groups. View the letter here.
 We also circulated a letter asking members of the Mental Health Liaison Group – a national coalition of behavioral health advocacy organizations – to join us in signing a letter to leading federal legislators. As a result of our leadership, 28 national mental health organizations have joined with DBSA in asking Congress to fund peer support during this national crisis.
 Many members of Congress responded to the request, but it is important that they hear from you! Please take a few minutes to send an email using this standard letter. A space has been left for you to insert your own personal story explaining why peer support is so important to you.
 It's your turn to act! Our collective efforts can make a difference. Please take a few minutes to send this letter to your U.S. Senator and Representative asking them to fund peer support.
 To receive more messages about issues that support access to quality mental health care, sign up here. 
Peer councils amplify our voices
DBSA offers many opportunities for peers to share their experiences. One example of this is the development of peer councils. These are groups of individuals with lived experience of mood disorders who share first-person insights and provide feedback to interested organizations such as health providers, insurers, government agencies, and others. Companies who develop products for the treatment of mental health often reach out to DBSA, asking peer councils to help them understand what matters most to people with mood disorders – which helps with the development and delivery of better treatment options. Topics for peer discussion may include: 
Clinical research and development planning

Insights on the use of digital technology

Alternative treatment awareness and marketing
Peer council input can help our partners in government, industry and health care reach people who want to take part in research studies that can improve care. The peer voice can also help health care partners and product developers understand how peers experience recovery and wellness. Sometimes, separate caregiver councils are convened to gain understanding of the unique needs of those who support loved ones with mood disorders.
Prior to COVID-19, peer councils often gathered in person, but they may also meet by phone or video chat. This makes it possible for DBSA to convene groups from across the country while still seeing and engaging with other participants. Peer council memes are often paid for their time. 
Here's a sampling of the important work that DBSA peer council members have done:
Providing feedback to medical product developers

Offering insights on the lived experience to academia

Sharing your lived experiences at conferences and workshops

Contacting state and federal lawmakers
If you would like to be a member of a future peer council, be sure to register with us. We will email you a few questions to ensure a good match between the organization asking for peer input and your willingness to serve. We hope you'll share this opportunity with colleagues, family, and friends who can help with this grassroots effort to make our voices heard.
The Wall Street Journal turns to DBSA for insights on depression risks
 Stressful times can increase mental health risks, but there are things we can do to stay balanced. This month, Wall Street Journal reporter Andrea Petersen asked what DBSA is doing to support people with mood disorders. Dr. Gary Sachs, a leading mental health expert who serves on DBSA's Scientific Advisory Board, shared these helpful tips:
Reach out to friends and family. Don't be afraid to tell them how you're feeling.

Helping others may lift your spirits, too. This can take the form of making masks for neighbors, going grocery shopping for someone in quarantine, or simply picking up the phone to chat with a loved one who might be lonely.

Online support groups can be a real comfort. (Find one via our

COVID-19 portal

.)

Limiting the time you spend with pandemic news can keep you from feeling overwhelmed. Try keeping it to two 30-minute sessions a day or less, based on how you feel.
Access the Wall Street Journal story on Twitter from your mobile device.
— DBSA (@DBSAlliance) April 13, 2020
Double the value of your gift during Mental Health Awareness Month
You may know Giving Tuesday as a fundraising event that happens each November. But did you know that nonprofits are coming together on May 5th for Giving Tuesday Now, a special fundraiser in response to the COVID-19 crisis? To encourage giving and celebrate Mental Health Awareness Month, DBSA's Board of Directors will match every dollar you give this May – up to $15,000!
Make a gift, learn more about mood disorders, and share DBSA resources to show your support throughout May. Like and follow DBSA on Facebook, Instagram, and Twitter to celebrate with us all month long.
Researchers want to know about your experiences with mental health stigma
Have you ever felt put down by someone who didn't understand what it's like to live with a mood disorder? Here's a chance to help researchers at the Illinois Institute of Technology, who are working to measure the effects of mental health stigma. The survey takes up to 30 minutes to complete and participants will earn a $15 gift card. 
From esperanza: resetting goals to move from failure to success
Missed milestones and progress plateaus can leave us feeling low. To restore self-confidence and achieve your dream, pause, focus, and reset – no matter how many times it takes.
More Wellness Tips
Additional tips to help with your daily routine from DBSA's Young Adult Council and the International Society of Bipolar Disorders.
Get some sun
Your body clock needs to see light in the morning, so spend some time outside or spend at least 2 hours next to a window, facing daylight, and focusing on being calm.
Working from home
Listen to your body and prioritize wellness. Even if you're not working, try to keep a schedule of waking up, meals, exercise breaks, or social time, but don't feel bad if you don't get everything done!
A regular schedule
Set times for a few regular activities each day such as home tutoring, telephone calls with a friend, or cooking. Do these activities at the same time each day.