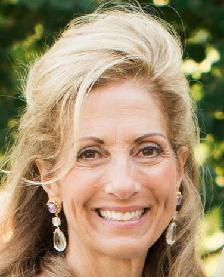 I'm 61. And, I have really only discovered in the past nine years what it means to live Life Unlimited by mental pain.
Here is my story.
Over thirty years ago when our family was young, my husband, Dan, and I sought mental health help for one of our children. For years we tried various psychiatrists and psychologists and with them came drug prescriptions and talk therapy but nothing helped. In fact, our child worsened. As weeks and months became years, there was no doubt that our child's depression and anxiety created a heavy burden on our entire family so much so that our quest to find help for one person became a quest for six. There were countless times when we felt we might never lift up our family to feel joy again because, unfortunately, it took many years (yes, years) to find the help we needed. Remarkably, it was right in our own backyard, so to speak. In my attempt to exhaust all possibilities near and far, I found a DBSA chapter in Greenwich, CT. The Group I discovered was founded by Dr. John Tamerin. There is so much to share about the blessing that this Group was and still is to my husband and me, our child, and our family as a whole but there is another part of the story I need to tell.
Throughout all of those years of searching for and finding help for our child and our family, there was another person among us who suffered silently but severely from depression and anxiety—for many years, in fact, dating back to her twenties. She remained quiet about her plight until one day when she could not suffer in silence any longer, she broke. I reference myself. I had one "breakdown" in the midst of my search for help for our child and then another several years later, a more severe one. I hid the first one. (Those of us in mental pain are masters of isolation.) But, the second one which was far more debilitating―I could not hide it. The difference between the two? Amidst the second one, I wanted to die. I never had those thoughts before. As painful and debilitating as the first episode was, the pain of anxiety during the second one was so severe that I felt hopeless that I would ever feel any bit of peace again. I thought that dying must be the only way I might know relief.
In those early days and weeks of this second collapse, I did not attend Group nor do much of anything except try to lift my head and find my place in the world. I was literally an anxiety-ridden mound on the floor and I wanted to flee from my own skin. I could not eat nor sleep. I could barely sit still from the anxiety coursing through every fiber of my being. But, in my therapy with Dr. Tamerin, I worked to try to rally―relentlessly trying to realign the out-of-synch gears of my brain. It was difficult and painful work, but through ongoing talk therapy with Dr. Tamerin combined with my own determination to recover, plus some medicine, I managed to thrust myself toward an attitude of hopefulness about life once again.
Along the way, I returned to Group and despite my head still hung low from utter mental and physical pain, I could be present among my fellow Group members in a way I could not yet with others—because I knew they would understand my story and what I had endured. No longer did I attend my DBSA Group for our child or for my family—I was there for myself.
And just as it was when I sought help for my child, the Group performed for me. Their outpouring of understanding, empathy, and advice based upon lived experience guided me to help myself to recover. Honesty and human connection are never so deeply present, generously offered, and easily felt as within my Group. We share a deep human connection that is based upon our willingness to be vulnerable to our own truth and the truths of others in ways that not only aid recovery but empower us to thrive, to live robustly, and yes, to live life unlimited.
To bring my story full circle: during my therapy with Dr. Tamerin, he encouraged me to write, to keep a journal of my thoughts and feelings. I happen to be a published writer so you might think that writing and keeping a journal would be second nature. But, it did not go that way. Trying to write made me even more anxious so instead I just happened to try to sketch with a pencil. Remarkably, I was pleased by what I saw and even more surprised that the process allowed me to channel some of my anxiety. Very quickly, sketching was no longer something I did therapeutically―it became a passion. From sketching came painting, and together, an emerging career I had never imagined. During the ensuing years, I have created many works of art, some of which awarded me recognition as an emerging artist and in one instance, a second prize in a nationally juried exhibition in Sante Fe, NM.
But in the middle of one night in January of 2016, I was struck by an idea of how I could combine my art and my lived experience with mental pain to benefit others. In Group, Dr. Tamerin always encourages members to find their passion and purpose, and to be pioneers whenever possible. That night I became inspired to create Mental Health Greeting Cards that respectfully and compassionately convey understanding of mental pain. Soon thereafter I created Sara's Mental Health Cards, which relate specifically to people like me who live with depression and anxiety.
Approximately 20% of all Americans suffer from some form of these mental conditions and yet there is not a single national greeting card company that offers cards, which a caring person might send to this one fifth of our population. All of the cards I create feature my paintings or graphic designs on the front and the themes of each one reflect my lived experience with mental pain. With these cards, my goal first and foremost is to validate sufferers. My ultimate goal is for these cards to assume their place among the stacks of other greeting cards where and when their very presence will send a message that mental pain is as real as physical pain. For the millions of sufferers like me they are my way of helping to send a message about being able to live Life Unlimited.
Join DBSA Greenwich and DBSA national in celebrating the Life Unlimited of Sara Mushegian with a contribution and, in so doing, help to make the transformative power of peer support available to more people, not only in Connecticut, but across the country!