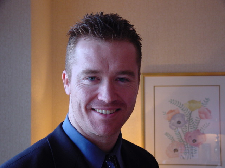 I volunteer my time and serve as director for the DBSA for many reasons. The three most important reasons to me are that I have seen the powerful therapeutic of advocacy on patients and family that have been affected by mood disorders. Secondly, I am forever grateful for the surreal privilege that patients and families have given me; not only an incredible purpose but also a tremendous inspiration. Thirdly, I really believe that the DBSA plays a critical role in representing the voice of those effected at the level of policy, education, research, as well as in the development of new treatments for mood disorders.
–
Roger is currently a Professor of Psychiatry and Pharmacology at the University of Toronto and Head of the Mood Disorders Psychopharmacology Unit at the University Health Network, Toronto, Canada. Dr. McIntyre is on the DBSA Board of Directors and also serves as the Executive Director of the Brain and Cognition Discovery Foundation in Toronto, Canada. Dr. McIntyre was named by Thomson Reuters in 2014-2019, inclusive, as one of "The World's Most Influential Scientific Minds". This distinction is given by publishing the largest number of articles that rank among those most frequently cited by researchers globally in 21 broad fields of science and social science during the previous decade.
Please note donations may take up to two business days to appear on this page.