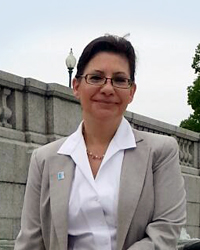 I always knew something wasn't right. Throughout childhood, I swung back and forth between states of high energy and low self esteem. As a young girl, I turned to self help books and inspirational quotes to try to fix what didn't seem right. I could never understand why I didn't seem like everyone else. I was a cheerleader and sang in the choir in junior high school. I always felt like an outsider.
In high school, I twirled a rifle in the marching band color guard and was editor of the school newspaper. I worked a job which filled my time, so I didn't remember I wasn't going to the dances or hanging out with friends. Life brought similar experiences in college and beyond.
It wasn't until my second daughter was born that I felt time was running out. I needed to do something—anything—to fix this. It did not occur to me that I was another chapter in the history of my family's mental illness.
My maternal grandmother was hospitalized and treated with shock therapy when I was a little girl. She was deaf, which made treatment difficult. I remember going to her doctors' appointments with her and my mother. The doctor did not use sign language, or know how to communicate with her. She would speak to my mother, who would ask my grandmother how she was feeling. She was given her prescriptions and we left.
Although my mother never went to a doctor for mental illness, she had all the behaviors of someone who would have benefitted from mental health care. Unfortunately, she passed away at the age of 62. She signed her own papers to cease dialysis treatment for kidney failure, which was caused by late-stage diabetes.
Why I never associated my symptoms with my family history still confuses me. I can only attribute it to the stigma of mental illness which existed then, and still does, to some degree, today. Like many, I felt like I should just be able to snap out of it. After a few attempts at finding relief, I went to a psychiatrist. I started taking a medication which did improve the quality of my life.
Unfortunately, psychiatric care was not covered by insurance, so I only saw my psychiatrist once a year. In early 2012, I walked into my boss's office and sat down and sobbed. I couldn't take it anymore. I asked for time off, which was granted. I went home and called the employee helpline. I wanted to end it. The counselor on the phone found me a local therapist, who advised me to go to the hospital. I was entered into an outpatient program where I spent the next few months learning cognitive behavioral therapy (CBT) and dialectical behavioral therapy (DBT) techniques.
What I learned was life changing. Mental health care is just like dental care! I see my dentist a few times a year, but in between, I brush and floss daily. With mental health care, I see my psychiatrist a few times a year and a therapist when needed. I take my medications regularly and as prescribed. I practice what I have learned from CBT and DBT. In between the professional help, it is important for me to maintain a healthy lifestyle of eating well, limiting alcohol and caffeine, staying active, and getting sleep, as well as being mindful of moments that bring joy. I learned that I am the advocate of my own health, which is my future. I still have my low moments from depression and bipolar. It is a process of recognizing symptoms and avoiding triggers. I have also learned to forgive myself for not being like everyone else. I have come to accept where I am right now and how much more life has to offer me in the future.
Today, I work full time and try to help others challenged with mood and mental disorders through my support group, Checkpoints Anxiety and Depression, and my involvement with DBSA Greater Chicago. I participate in advocacy with DBSA National in the hopes of making the stigma go away, and of mental health treatments being made available to everyone who is in need.
My message is simple:  You can be better!