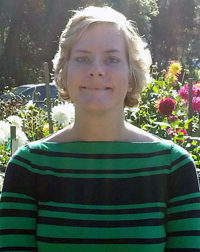 I was diagnosed with bipolar disorder during my sophomore year of college. I distinctly remember how alone and scared I felt during the months leading up to my diagnosis. I knew that something was wrong when I began to fail classes, withdraw from friends, and experience depression and mania, but I did not know what was wrong or where I could go for help. When I finally did open up to family and friends and get the treatment that I needed, it was a relief. At the same time, though, the diagnosis felt like a burden. Like many young adults, I had begun to develop an image of who I was and where I wanted my life to go, and my diagnosis put many goals on hold. My focus shifted from classes, friends, and my future to therapy, medicine, and the belief that my life would be limited by my diagnosis and that I could never fully recover.
The turning point in my recovery journey came when I joined a group on campus, Active Minds, dedicated to educating the college community about mental health and reducing stigma. I realized that I was not alone and that there were other students facing similar challenges, as well as those who did not have a mental health issue but cared and wanted to make a difference. Through participating in the group, I no longer felt isolated and began to see my bipolar disorder as a strength that could be used to help others. I now viewed past events, such as taking a semester off or struggling in a class, not as failures but instead as obstacles that I had overcome. I finally felt optimistic about my future and my ability to lead a productive and happy life.
It has now been seven years since I discovered that I had bipolar disorder. Through the support of family, friends, professors, and doctors, I graduated from college and am now working as a peer specialist, supporting individuals as they go through their own mental health recoveries. I am living on my own, have meaningful relationships with family and friends, and can genuinely say that I am living the kind of life that I had been striving for before my diagnosis. Life no longer feels limited, but full of possibility and hope.
Maintaining my personal wellness has been a critical part of my recovery. In addition to the excellent care that I receive from my therapist and psychiatrist, I have learned to reach out to family and friends when going through a difficult time. A large part of getting this support has been working to overcome the shame often experienced by those with mental health conditions. For me, self-acceptance was the catalyst towards truly engaging in my recovery and seeking out the support that I needed and deserved. In addition, being surrounded by people who believed that I could recover instilled a belief within me that my life can move forward.
Seven years ago, I felt defined by my diagnosis. My hopes and dreams seemed shattered. In retrospect, I realize that it was the consistent love and support from those around me that kept those hopes and goals alive within me. This is not to say that every day is easy or symptom free—being well takes work. However, I now believe that I, and anyone dealing with a mental health condition, have the ability to recover, be well, and lead full and satisfying lives. Being an individual with bipolar disorder used to be a source of shame, and the core aspect of my identity. Now, I now see it as one strand in the colorful tapestry of who I am, and who I hope to be.