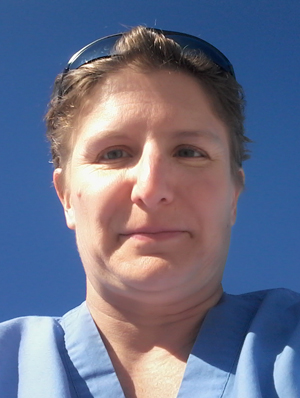 I've always excelled in everything I've tried. In grade school, I swam on the YMCA swim team. Every time I dove into the pool to race or practice racing, I beat my own best time. But no one knew how anxious and depressed I was; I had very few friends. Even after graduating from high school as a member of the National Honor Society and then college with summa cum laude honors, I was still very sad and anxious. I'd also functioned on very little sleep in college and didn't understand why.
I moved to another state after college graduation, trying to run away from my depression and anxiety, but that only made things worse. I had a really tough time managing a full-time job and started to see a psychiatrist. One day, I was at rock bottom and called my doctor, saying I wanted to hurt myself. Ten minutes later, the police were knocking on my door. They took me to the hospital and I don't remember much after that. My parents were called and my family was great about taking me back home to live them. (I hadn't been an easy child to raise—the illness was there and there wasn't a diagnosis.)
Once home, I had a really significant stay at a hospital that lasted for a month. I thought I was someone else entirely and was convinced that the police were coming to get me. It was there that I was finally diagnosed with bipolar disorder with psychosis not otherwise specified. I was paranoid, thinking that the nurses were trying to poison me with my meds. They finally gave me injections to help me feel better. I would not eat, so they kept up my nutrition with an IV.
My road to wellness actually began when I did get on medication. This was the very first step in a long process—I've tried many treatments. The medication helped bring me out of a psychotic state and since then I've used all kinds of therapies, medications, and ECT to get to where I am today. Looking back, I think the scariest part of my journey was when I didn't know who I was anymore or who I could trust. But I wouldn't trade my experiences for the world because I'm proud of the person I've become.
I currently work as a peer advocate, supporting people as they learn more about themselves. It's the best job I've ever had. I can relate to them and talk about what has worked for me. Maybe someone will follow my lead and feel more positive about their life. Today, just as I've always done, I'm constantly trying to improve.