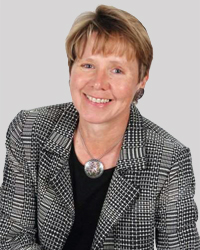 In 2002, I was on the way to marriage with the love of my life. I was a workaholic technologist with a comfortable income. Anxiety disorders and a misdiagnosed mood disorder had troubled me since childhood. Ten years later, I'm divorced; my mood disorder is more severe (ultra-rapid cycling, drug-resistant bipolar); my anxiety is worse; I'm going through menopause; I've been unable to work for years; my only income is a social security check 85% less than my last paycheck; and—my life is so good my friends and family are jealous. 
Since December 2011, I've worked, lived, and traveled the U.S. in a 100 sq. ft. eco-campervan converted to my specifications with solar electricity and a dry composting toilet. The van conversion is designed to be economical, have low environmental impact, and to be a safe, healthy environment for me. It reduces my chemical exposure, provides an environment with no incandescent or florescent lighting, and is a secure, cozy refuge for me, my cat, and my psychiatric service dog. Unlike traditional RVs, it has no propane tank, no open flames, no blackwater tank, and no leveling system. This makes it easier and safer for me to handle when I'm not at my best.
I camp on federal lands, including stunning national parks, much of the year for $10 a night. I have no utility bills, no rent, no mortgage, and no storage fees. My income is spent on high quality, healthy groceries, insurance, and fuel. I love outdoors activities and am proud to be living a greener life with extremely low water use and energy conservation. I have solid relationships with my parents, children, and grandchildren. My mental health is improved; my weight and physical health are excellent.
This low-cost eco-recovery allows me to pay for my mission, the Service Poodle Outdoors/Outreach Tour. I became inspired to do this during my training by Advocacy Unlimited in 2010. My psychiatric service dog, Maeve, and I get the word out about federal civil rights laws that give people with psychiatric disabilities in all 50 states the right to have trained service dogs accompany them wherever the public is allowed, as well as the right to have untrained pets (emotional support animals) in no-pets housing without deposits or fees. I talk to groups and individuals. I have a website; blog; Facebook page; Google+ page; and am active on Quora and in a number of Linked In's groups on the topics of disability, Americans with Disabilities Act, and psychology. Maeve and I recently traveled from Connecticut to Portland, Oregon to present our workshop, Mental Health is Going to the Dogs (and Cats), at Alternatives 2012 and I'm beginning a project to write and speak about my recovery and lifestyle. Call me or send a message.