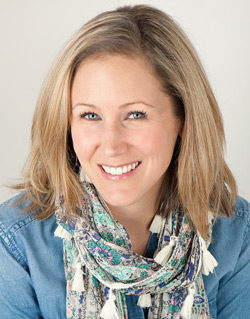 My mental illness emerged at the very end of 2005 in December—two years into my marriage, but before kids came along. At twenty-six, I was at the top of my game as a creative staffing agency recruiter, enjoying married life, and building our first house. One week my husband was on a business trip and I was so wired I couldn't sleep. For a week. This led to a manic episode that landed me in the hospital. It left everyone close to me, including the psychiatrist who treated me when I came out of the hospital, scratching their heads. No previous mental health history we could identify, and nothing that we knew of in our family.
After a few days in the psych ward, I took the rest of the week off from work, and returned to my job the following Monday, attributing the entire incident to the intense deficit of sleep.
But two weeks later the mania was back with a vengeance and I was hospitalized on Christmas Day, certainly one of the darkest days of my entire life.
One time was a shock, twice forced the reality of the situation to set in. My husband never left my side, even though he must have been scared to death. My parents, clearly devastated this was happening to their daughter who had been perfectly healthy her entire life, suddenly were thrown into dealing with two psychiatric emergencies in one month.
My life was turned upside down.
As you would expect, I began seeing a psychiatrist regularly. Once the doctor got the mania under control, the anxiety flooded my body. I tried to return to work while figuring things out, but the normal stress of my high-pressure sales job sent me into a debilitating tailspin. In March of 2006, I was diagnosed with bipolar type 1. Just three months after my mental illness broke through the surface of my life, I was forced to resign from a career I loved and excelled at to focus on getting well. This caused me to slip into the cold, gray hole of clinical depression, where I curled up for about a year.
I found myself consumed with fear, embarrassment and shame. Not because of anything I'd done. I felt these emotions because of society's stigma towards mental illness.
Over the course of years of psychiatrists and meds and therapy, after two more hospitalizations and with the incredible support of my husband and family, I made it through. My best friends knew about my condition and what had happened to me, but I kept it hidden from everyone else because I was afraid of being treated differently.
The internet became a place of healing for me, as I found myself online reading about people who were overcoming mental illness. I was inspired to start a blog, and began writing my story. As I shared bits and pieces, it became clear that writing was helping me heal, and it was also showing me that I was not alone.
Last summer I had a vision of creating a theater production made up of real people from the community sharing their true stories of living with mental illness. I wanted to give them a voice. A way to express their pain, their journey to overcome stigma, and a way for them to inspire others to reach out for help. With an incredible creative partner, we launched This Is My Brave and through a successful crowdfunding campaign, raised the money we needed to make the concept a reality.
This past May, our cast took to the stage and shared their stories of living with mental illness through poetry, essays and original music in front of a sold-out audience.
Being able to take the mask off and reveal all parts of me, including the fact that I live with a mental illness, has been a tremendous factor in my recovery and continued stability. By talking openly about my illness, I'm breaking down stigma. There is power in sharing positive stories and bringing mental illness into the light, and my hope is that our non-profit will help many more people in the future the way it's helped me.