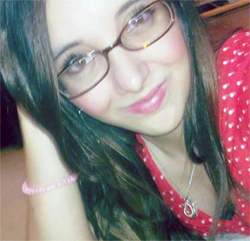 At an early age, I started to feel like I was much different than people around me. I've always felt that I have never truly fit in with the crowd. I guess a good way to explain it would be feeling like "a needle in a haystack." I can remember having a lack of self-esteem as early as 10 years old.
My parents got divorced when I was 11 or 12 and that damaged me in more ways than one. Things got worse after that. I got bullied in middle school and part of high school. I was sexually assaulted and abused at 15. I became pregnant at 16 by the same person. I let myself down; I put trust in someone who only made my life worse and abused me in more ways than one. I finished high school with help from my family and graduated from a technical institute where I earned my diploma in the medical field. I somehow found the courage to get away from this man who caused me so much pain. Soon after high school I met a new man and fell in love. We got engaged and then married. I had the best wedding day and dress, just had the wrong man.
At 21 I decided to overdose and luckily I failed. Attempting suicide wasn't the worse part. Waking up next to someone who still didn't care about you hurt the most. At 22 I had a mental breakdown and was taken in an ambulance from work to a hospital where I was admitted to their psych floor for a second attempt at suicide. That was one of the greatest experiences of my life! With help from medical professionals it was suggested that I get a divorce, as the marriage was doing more harm than good. Again I had to find the courage to pick up the broken pieces and move on to something better for me and my child.
Along with the depression, anxiety, and panic attacks, I now also suffer with PTSD. Every day is a struggle, but everyday I'm getting stronger. I take multiple medications and have gone to therapy several times throughout my life. I've learned even though it may seem impossible to forget all the bad things in the past, it is possible to continue to get better. You have to SPEAK UP! It is impossible to get through any mental disorder on your own. Hearing others stories about living with a mental illness gives me hope as I hope that my story gives someone else hope. Just remember, as bad as things can get that the world keeps turning. Life goes on and you are the key to your happiness! As painful as it seems, all the broken hearts in the world continue to beat, and the one thing I've learned is time changes everything. We can't go back; we can't erase the damage that is done. The only choice we have is to keep moving forward!