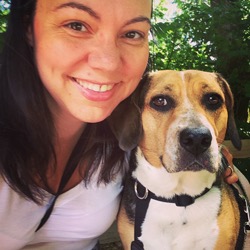 Despite my childhood years where I was diagnosed with ADHD, my struggle with mental illness began many years ago in high school during my sophomore year. Initially, I struggled with panic attacks, anxiety, and depression. As time went by, my symptoms became more severe and included mood swings, distorted perceptions, and paranoia. I was diagnosed with Bipolar I while attending college and responded favorably to treatment and medications, although it wasn't always easy. I was hospitalized twice while in college and had periods where I decompensated which made working and school challenging to say the least!
The last decade of my life was overshadowed by certain challenging events (divorce, a family member's addiction, and a difficult relationship), that initially derailed me, yet eventually set the stage for healing. These troubled times provided the opportunity to learn and to employ various coping skills to more effectively manage my illness. I learned the importance of setting boundaries and self care to minimize the impact my illness has on my life.
It has taken quite a bit of trial and error and many painful mistakes to ultimately learn that I needed to put myself in the center of my life and practice self-care and self-love. I still struggle from time to time with the symptoms of bipolar illness, but I am able to decrease the intensity of symptoms by leading a life where I not only put myself and my health first, I also have better boundaries that protect me from engaging with people that are harmful to me.
I have been fortunate to "push through" many difficult times in my life and was able to accomplish a MS degree from the University of Tennessee, Knoxville in Therapeutic Recreation. I am registered as a Certified Therapeutic Recreation Specialist (CTRS) in the state of Washington. I have been taking a break this past year from working and hope to start my own business in time  as I feel it will be healthier for me in the end. I'm learning that in order for me to be successful while maintaining my health, I might need to do things differently than others and that is ok. I'm in the process of carefully constructing a small business model that allows for the flexibility and variety needed for me to excel while protecting my well being and energy.
Some of the activities I do to keep myself accountable to the process of healing are: mindfulness, walking in nature, blogging, singing on the SMULE app, attending weekly therapy & DBT skills group, and spending time with friends. Eliminating negative influences in my life has allowed more space to engage in activities that are healthier which minimizes symptoms.
I definitely feel I am a "work in progress", but am hopeful now and am even excited about my future. I have always felt a little outside of the norm and in the past that made me feel insecure. I now embrace my differences and accept my limitations related to my illness rather than deny or fight them. The full acceptance of my illness has been a true gift in recovery as it has freed up a lot of energy that was used in fighting all the time and has allowed me to invest that energy into what is possible and what makes sense for me. What was once a dismal and bleak future is now full of joy and endless possibilities. Thanks for letting me share my experience with you. It's healing to acknowledge that in the past I often felt my world was dark and now I see it in layers of color and possibilities. Being accountable and having better boundaries has been empowering and continues to bestow blessings in my life daily.