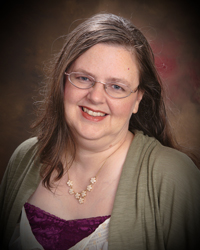 When I found out I had been named the recipient of DBSA's 2014 Life Unlimited Award, I was stunned. I would characterize my life as remarkable, but I also know each one of us is remarkable in some way. Each one of us is created for some kind of greatness.
I remember as a very small child believing that I was created for greatness. Somewhere along the way that inner voice was squelched. My home life had the normal dysfunction that many families have here in America. I went to college for a couple years and married at a very young age. Nearly a decade later, my mental health became unmanageable. I lost my home. I lost my family. I also experienced hallucinations and began to loathe myself and my life.
I tried ending my life more times, and in more ways, than I can remember. I was very angry with God for not letting me die. I couldn't escape from the pain of this world so I began physically abusing my own body. I would lash out at myself in ways that I would never treat another human being, but I didn't feel like a human being. I didn't feel that I was deserving of anything good, let alone anything great.
Seemingly without warning, the trajectory of my life began to change. There were people who loved me when I wasn't able to love myself. My Pastor would consistently say that "People are sacred creations of God", and my Mentor taught me how to hold myself in unconditional high regard. I slowly began to fight for my life. Today I fight for life—my life and the lives of others—to the same extent as I once fought for death.
It was at a women's conference when rumblings began to stir within me, within the depths of my soul. I remembered that voice from long ago which told me that I was created for greatness. Excitement crept back into my spirit. This expectation, the expectation that my life is of great significance, continues to shape my work as I move forward with the highest expectations. Today I serve as Founding Director of Sacred Creations, a statewide network in Illinois comprised entirely of persons with mental health conditions. I also work as an Associate Director for Pathways to Promise, a national interfaith organization which provides technical assistance to faith communities regarding mental health. My roles with both organizations have afforded my inner voice the opportunity to be heard nationally.
My life has value and meaning and purpose. I understand my identity. I understand my purpose. I know that I am created for greatness. This doesn't mean that I don't have challenges; I do. I have challenges every single day of my life. I still have unwanted thoughts of suicide, but it doesn't impact me in quite the same debilitating way. I still have sensory challenges which make it very difficult to worship during a church service or concentrate when I am in an airport. Noise just hurts and I cannot escape it. In the midst of the chaos, there is something gained by continuing to move forward. I am still learning that whatever capacity I have for pain, there exists equal capacity for pleasure.
To me, Life Unlimited means that all things are possible. Life Unlimited means that I am moving forward in a manner which advances humankind. It means that all aspects of life have value because we have value. We were all created for some kind of greatness.