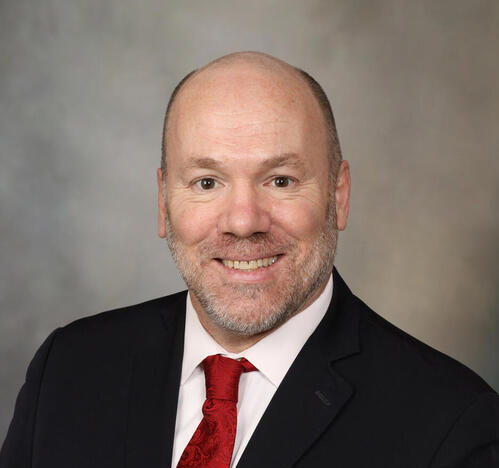 Consultant, Department of Psychiatry & Psychology
Stephen & Shelly Jackson Family Professorship in Individualized Medicine
Mayo Clinic
President, National Network of Depression Centers
Rochester, MN
Dr. Frye is a Consultant in the Department of Psychiatry & Psychology at Mayo Clinic. He is the past Chair of the Department of Psychiatry & Psychology (2010-2020) and is recognized with the distinction of the Stephen and Shelley Jackson Family Professorship in Individualized Medicine.
Born and raised in Rochester, Dr. Frye received his M.D. from the University of Minnesota and completed his psychiatric training at the Semel Institute for Neuroscience and Human Behavior at the David Geffen School of Medicine at UCLA. He subsequently completed a fellowship at the National Institute of Mental Health in Bethesda, Maryland with a research focus on the neurobiology of treatment resistant depression and bipolar disorder.
Dr. Frye and his team established the Mayo Clinic Individualized Medicine Biobank for Bipolar Disorder to identify the underpinning mechanisms of bipolar disorder through genomic studies. An active clinical investigator, he has received research support from NIMH, NIAAA, Mayo Foundation, Brain & Behavior Research Foundation, and industry partners, and has published more than 425 peer-reviewed papers. He has received numerous awards including the American College of Psychiatry Mood Disorders Research Award (2018), Gerald Klerman Senior and Young Investigator Awards from the Depression Bipolar Alliance (2014, 2003), the  International Society for Bipolar Disorder Robert Post MD Mentoring Award (2022) and Mogens Schou Education Award (2011),  2 Mayo Clinic Rome Mentorship Awards (2011, 2012), and  3 UCLA departmental medical student and resident teaching awards (1994, 2003, 2005). In addition to this work with the Depression Bipolar Support Alliance, he is  the Scientific Co-Director for the Integrated Network for BD2 (Breakthrough Discoveries for Thriving with Bipolar Disorder), a new non-profit foundation that is dedicated to funding research, specifically, into bipolar disorder.