On December 5, DBSA will be transitioning its online support group services from Support Groups Central to HeyPeers. Participants will have access to the same groups and facilitators they currently use with the addition of exciting new features to enhance their experience. Registering for HeyPeers is easy, with a link customized specifically for each participant.
What is HeyPeers?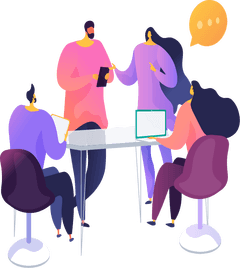 HeyPeers is a community of partner organizations, independent peer specialists and peers gathered together to support one another. It is a video and chat room app that allows people to join support discussions with others who are on a similar life journey. The DBSA live video-based meetings are led by certified peers.
What does this mean for you?
The DBSA community will benefit from transitioning to HeyPeers in the following ways:
It will broaden your support experience to include diverse offerings of support group meetings and one-on-one coaching sessions conducted by Peer support professionals who are qualified by HeyPeers.
You can choose a subscription option with HeyPeers which offers the "My Journey" feature and other tools to help you keep track of your mental and emotional health.
Why now?
The people we serve have become accustomed to the convenience and effectiveness of participating in virtual peer support. It has been said that "the pandemic has done for telehealth what would otherwise have taken five years to accomplish."
We understand that change isn't easy, but the time has come to upgrade the way we deliver peer support. HeyPeers makes it easy for you to join, interact, and participate in a variety of peer support activities.
What should I do?
We encourage you to discover all the features HeyPeers has to offer you. You will be receiving a series of emails between November 21 and December 4. Click on the link in one of those emails to create a HeyPeers account and register for upcoming meetings.
How is Support Groups Central supporting participants in the transition?
If you have any questions, please don't hesitate to reach out. We want this transition to be as smooth as possible.
You can learn more about HeyPeers here. In addition, be sure to check out the robust HeyPeers Knowledge Base, which offers detailed directions on how to navigate HeyPeers and topics to help you get the most out of the platform's enhanced features.