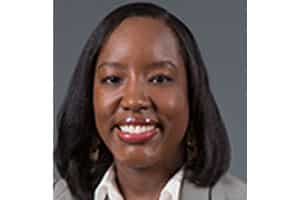 Founder and Chief Health Officer, Strong Children Wellness
Jamaica, NY
Nicole M. Brown, MD, MPH, MHS, is a general pediatrician and health services researcher and is the Chief Health Officer of Strong Children Wellness, a new pediatric primary care practice network that reverse integrates comprehensive pediatric primary care into child- and family-serving behavioral health and social service organizations. Brown formerly served as Assistant Professor in the Division of Academic General Pediatrics at the Children's Hospital at Montefiore, Albert Einstein College of Medicine. Her research and professional interests center on enhancing care and service coordination for children who have experienced trauma and those with chronic mental health needs in the pediatric primary care setting. Brown has served on the board since 2021.
Brown completed medical school at Stanford University School of Medicine and her pediatric internship and residency at Johns Hopkins Hospital. She obtained her MS in health sciences as a Robert Wood Johnson Foundation Clinical Scholar at Yale School of Medicine. 
"Conversations about mental health are often taboo in the communities in which I work, and it is difficult for those with mood disorders to easily access and engage in the services that they need. DBSA's transformative approach brings comprehensive support, education, and hope to people living with mood disorders through peer support, and this aligns with my commitment to providing holistic, wraparound care to children and families with mental health needs."