Chart Your Own Wellness Course this May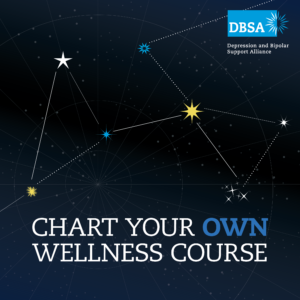 May is Mental Health Awareness Month, and DBSA is excited for this opportunity to celebrate our community. Our theme this year is "Chart Your Own Course," because while everyone's wellness journey does not look the same, we all have the power to navigate our own individual path to wellness. Throughout the month of May, we will share tools and resources that will allow you to chart your wellness. No matter where you are on your wellness journey you are not alone. Join the conversation on Facebook, Twitter, and Instagram. 
Resources to help you chart your wellness:
Wellness Wheel
Wellness Tracker 
Mood Crew
Wellness Stories from peers:
Life Unlimited 
I'm Living Proof 

New I'm Living Proof  Podcast Series Spotlights Young Adult Experiences with Mood Disorders
A recent DBSA survey revealed that 69% of respondents noted they experienced their first symptoms of depression or bipolar before the age of 17. Though fairly widespread, the issue of young people living with mood disorders has not received the focus and attention necessary to help the broader population better understand young people's experiences.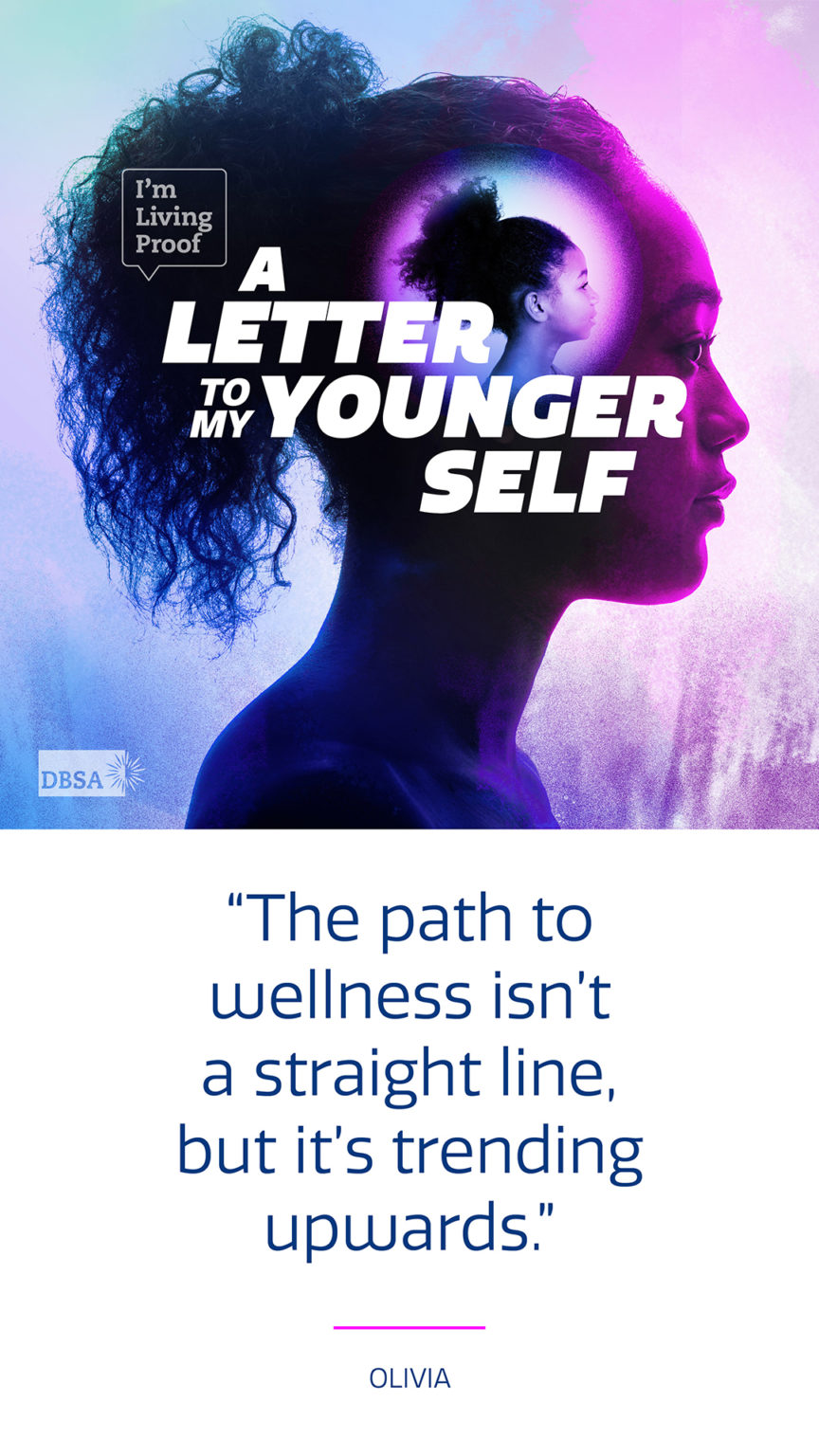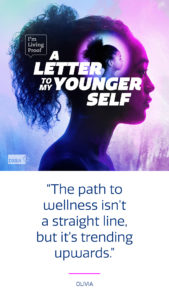 To help amplify the young perspective on this lived condition, on May 1 the Depression and Bipolar Support Alliance (DBSA) launched I'm Living Proof: A Letter to My Younger Self, a blog and podcast series created to share the experiences of young adults who live with depression or bipolar.  
The goal of the podcast is to share peer stories, specifically with young adult and teen audiences. In addition to providing a forum for young people's experiences, writing these letters provides the opportunity for the authors to give empathy and compassion to their younger selves.
This process of reflection can be helpful to recognize the strength they have shown and understand all that they have accomplished, despite a mood disorder diagnosis. The series seeks to inspire hope, understanding, and empathy for young adults and teens dealing with the challenges of a mood disorder diagnosis. 
In the podcast series' first episode, I'm Living Proof: Wellness is Trending Upwards, we hear from Olivia, a DBSA Young Adult Council member, whose letter to her younger self describes the challenges she had confiding in others and asking for help. Olivia describes her journey towards wellness from hospitalization to participating in DBSA support groups and reminds us the path to wellness is not always a straight line but rather one that can trend upwards.
"Supporting Youth Mental Health is a goal consistent with one of DBSA's strategic priorities to provide support and resources to those living with mood disorders, as well as to caregivers, loved ones, and clinicians across an individual's lifespan," said Maria Margaglione, DBSA Programs Director. "A lot of hard work went into producing I'm Living Proof and we're proud to have a beautiful program like this in our organization."
To be considered for I'm Living Proof, individuals must be 18-35 years old and identify as living with a mood disorder. Submissions for the series are accepted through the DBSA website.
Myriad Genetics and DBSA Launch "How Depression Feels" Awareness Campaign During May
Depression as a lived condition is one of the most misunderstood disorders. People often misinterpret those who live with depression as "lazy" or "dramatic," vastly underestimating and misunderstanding the debilitating symptoms of major depressive disorder. In fact, in a recent nationwide poll, the GeneSight® Mental Health Monitor found that 83% of people with depression agree that life would be easier if others could understand their depression.
That's why Myriad Genetics, makers of the GeneSight Pyschotropic test that helps doctors understand how to treat depression, and the Depression and Bipolar Support Alliance (DBSA) have partnered during May to raise awareness and understanding for how a person who lives with a major depressive disorder feels. The awareness campaign, "How Depression Feels (HDF)," addresses the lack of understanding and empathy about depression to encourage more support from the loved ones of people living with depression. 
The HDF campaign virtual media kit features a link to a special digital experience at KnowMentalHealth.com that introduces visitors to situations that suggest feelings strongly associated with depression such as loneliness, anxiety, frustration, lack of appetite, inability to focus, and others. A physical media kit contains detailed fact sheets that include information on wellness resources from DBSA, such as the Wellness Wheel and Wellness Tracker. 
Media response to the HDF campaign has thus far been very enthusiastic. Television news stations WFAA (Dallas), KRIV (Houston), and WJBK (Detroit) reported on the launch of HDF, and the campaign also received coverage from several online news services, including Eat This, Not That, Yahoo! News, and MSN Lifestyle.

Advocacy Victory: Your Efforts Made a Difference
We asked, you took action, and they listened. Based on stakeholder feedback, The Centers for Medicare & Medicaid Services (CMS) announced they are not moving forward with removing protected classes, as proposed in January. Medicare Part D requires plans to cover more than one medication in six specific categories called "protected classes." Among the six protected classes are those medications that treat mental health conditions.
CMS is also not moving forward with Part D Formulary Flexibilities, allowing coverage of only one drug per class and category. Plans will continue to have to cover two drugs in all classes, the current standard.
This reversal is a huge victory that wouldn't have happened without your collective engagement. Thank you for your action on behalf of your peers. We still have a lot of outreach and education to do with new members of Congress. However, for now, we can enjoy this victory collectively!
CMS will also continue to allow plans to reduce or eliminate cost-sharing on generic drugs for low-income subsidy beneficiaries. Plans can also adopt cost-sharing smoothing, which spreads the amount you owe over the whole year instead of paying up-front before your plan kicks in.
Your Voice Can Make a Difference
Please support this work by forwarding this message to colleagues, family, and friends who are passionate about the cause to assist us in  the grassroots effort to make our voice heard.
To continue to receive communications about issues that support access to quality mental health care,
Self-Advocacy Tips for Maternal Mental Health
Maternal Mental Health Awareness Week was May 3rd through Mother's Day on May 9th this year. Amid the ongoing pandemic, self-care and self-advocacy are essential to a mother's or mother-to-be's mental wellbeing. Evidence suggests that rates of maternal mental health disorders have tripled during the COVID-19 pandemic. Read more
Mood Crew Monthly: Searching for Happiness and Gratitude Journal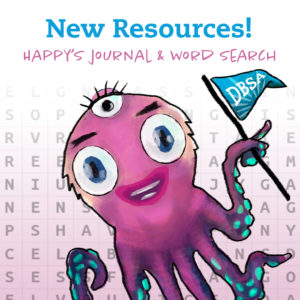 If you are the parent or caregiver for a young child, or an educator or clinician, you know how important it is to see the children you care for feeling happy. Our newest DBSA Mood Crew friend, Happy, has some resources that will help you facilitate conversations with your young ones about what happiness feels like to them.
Search for happiness and improve your mood with Happy!
Chart Your Own Course to Wellness with the DBSA Wellness Wheel
Have you ever tried a wellness strategy that worked perfectly well for someone else and found it didn't really work for you? How did you feel? Defeated? Deflated? Uninspired? It can be challenging to try something that we think will improve our wellness,  only  to feel set back or discouraged. Your feelings of frustration are valid,  but oftentimes we feel frustrated with ourselves even though it isn't our fault — it just isn't the right approach for us! That is  why finding your own course to wellness is so important.
The DBSA Wellness Wheel has seven key areas to help us broaden our outlook on what wellness means. When you complete the DBSA Wellness Wheel workbook, you'll be able to see your strengths in perspective. Maybe your financial wellness doesn't look great, but your intellectual wellness is really strong. Seeing our strengths in perspective can give us a broader outlook on how we are doing. It also can help us define areas in which we want to grow more.
Tips for Charting Your Own Course to Wellness 
Charting your own course to anything can feel daunting if you are experiencing symptoms of depression or bipolar.  That is why we'll outline some easy tips to get you started on a journey with the DBSA Wellness Wheel.
Physical Wellness
Our physical health determines much of how we feel. This area of the Wellness Wheel focuses on how sleep, nutrition, and physical activity impact our mental health. Taking a small step to work on your physical wellness may look like trying to regulate your sleep, booking a doctor's appointment with your primary care provider, or adding a nutritious fruit or vegetable to your meals. 
Environmental 
Environmental wellness is about our connection to both our physical spaces and the outdoors. A small step here might be setting a specific time each day to soak in some sunlight. Whether it is a walk around the block or sitting on your porch,  sunlight helps regulate our circadian rhythms and is especially good to soak in to get the day started! 
Financial 
Financial wellness involves how we manage our money. A small step might include assessing your spending and savings habits. Managing money can be challenging, so start small — even just tracking what we are spending can help us be more mindful about where our money goes. 
Intellectual 
Intellectual wellness involves our hobbies, interests, and creative outlets we might participate in. When living with depression, it may be hard to feel motivated to get creative. Try observing how others find intellectual wellness. Watching a YouTube video on a craft or a podcast about an artist's process is an easy way to feel more inspired. 
Occupational 
Occupational wellness focuses on keeping well at work. A small step you might take to feel better at work is to examine your schedule. Are you taking enough time for breaks? You might try adding some dedicated focus time or breaks to your calendar. Finding the structure and boundaries that work for you at work can make a big difference in how you feel at work. 
Social 
Social wellness involves how we show up in our relationships. COVID-19 has certainly strained our ability to socialize normally. Is there someone that you haven't reached out to lately that you would like to? Letting someone know you are thinking of them can be a small but helpful way to boost your social wellness. 
Spiritual
Spiritual wellness involves how we envision and live out our values to find meaning and purpose in life. While spiritual wellness may seem like a big concept, you can find spiritual wellness in small moments when you bring your attention to the present. Having a mini-meditation during the day can be calming and centering. 

A conversation about peer support and peer support specialists 
A Peer Support Specialist is a professional with lived mental health experience who is trained and certified to provide help and encouragement for others who are also working towards wellness. Listen and learn from Douglas  Hulst, DBSA's Peer Specialist Workforce Development Program Manager, as he dives into the concept of peer support and how it benefits those living with depression or bipolar. Also hear from Jennifer, a Peer Support Specialist, who talks about  her journey to become a certified specialist, where she works, and how her role impacts peers.