It's National Volunteer Week!
All of us at DBSA express our sincere thanks for the efforts of our volunteers. During a year like no other, the efforts of our volunteers made it possible to quickly transition in-person services to a virtual environment while increasing support group offerings and expanding resources available on the DBSA website. Throughout the pandemic, we have heard from our community members about their needs and concerns, and also about the impact these services have made directly on their lives during this difficult time.
To each of our volunteers who have offered their time, expertise, donations, and a listening ear, we thank you.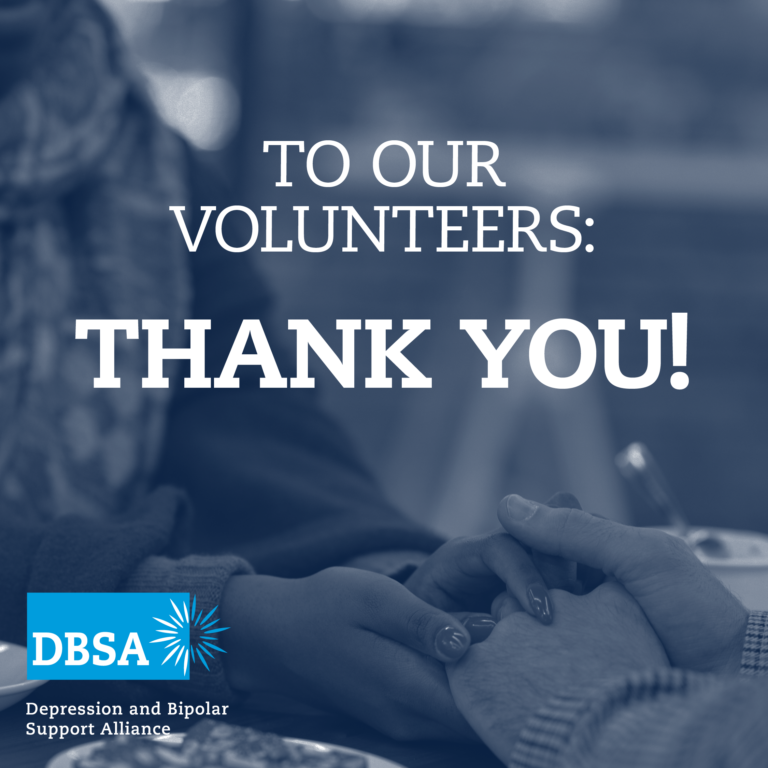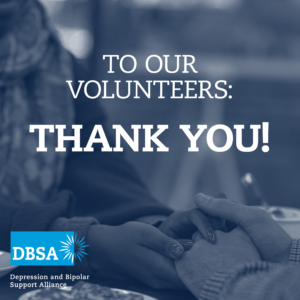 Otsuka and Takeda help DBSA adapt to the challenges of the pandemic
The consequences of a global pandemic had an immediate and profound impact on the mental health of individuals with mood disorders, increasing feelings of isolation and removing access to certain key factors of an individual's wellness or treatment plan. Additionally, countless people faced (and continue to face) a mental health crisis for the first time in their lives. According to CDC Household Pulse data, about 4 in 10 adults in the United States reported symptoms of anxiety or depression during the pandemic in 2020. This was up from one in ten adults who reported these symptoms from January to June 2019. 
When COVID-19 put society as we knew it on pause, DBSA received immediate support from Otsuka Pharmaceutical and Takeda Pharmaceuticals America, allowing us to take steps to mitigate negative mental health outcomes for individuals living with a mood disorder.
Some important key steps DBSA took in 2020 include:
Assisting our chapter and support group network transition to virtual meetings

Building out a "COVID-19 Resources" page on the DBSA website

Adapting the DBSA Wellness Wheel workbook to a COVID-19 specific workbook

Producing nine new wellness podcasts including tips on coping with the effects of COVID-19
Other notable accomplishments:
Implemented a two-month program to deliver one-on-one peer support services to our chapter leaders/volunteers during the pandemic

Created and delivered two webinars on transitioning from in-person to virtual peer support services and adapting wellness tools to support whole health during a pandemic

Sent a letter to Congress urging members to include funding for mental health services in their COVID-19 response pacakge
"The DBSA online support groups have meant the world to me during this time. I am a veteran with complex PTSD and Bipolar Disorder. The novel coronavirus and all the life changes that it has brought put my anxiety through the roof. Being able to talk through my symptoms, hear from others experiencing the same thing, get helpful suggestions, and tell others what has helped me truly has been a lifesaver. Outside of taking my medications, the weekly DBSA support groups are all I currently have to manage my mental illness. Since suspending the in-person support groups and moving online, several group members have expressed that the online meetings have helped them tremendously during this time."
-DBSA online support group participant
Thank you, Otsuka and Takeda, for helping the DBSA community adapt to the challenges of COVID-19.

Supporting Youth Mental Health – I'm Living Proof: A Letter to My Younger Self
If you live with depression or bipolar, do you remember your first experiences with symptoms? How did you feel? Alone? Confused? Ashamed?  
What about the challenges you overcame? Whether setting up your first therapy appointment, finding a support group, working through a hospital stay, or opening up to a loved one about what you were experiencing, every person faces and overcomes several challenges — big and small — along their wellness journey.
It can be scary and overwhelming to feel symptoms for the first time. But, when we reflect on the journey we have taken, we can also find the hope, courage, and strength to know that we are more than our symptoms and more than our diagnosis. We are living proof because we carry forward.    
DBSA's Young Adult Council produces a long-standing series called I'm Living Proof that is being refreshed this year to become a new blog and podcast series called I'm Living Proof: A Letter to My Younger Self. In this series, young adults will write letters to their younger selves to reflect on how far they have come on their journeys towards wellness.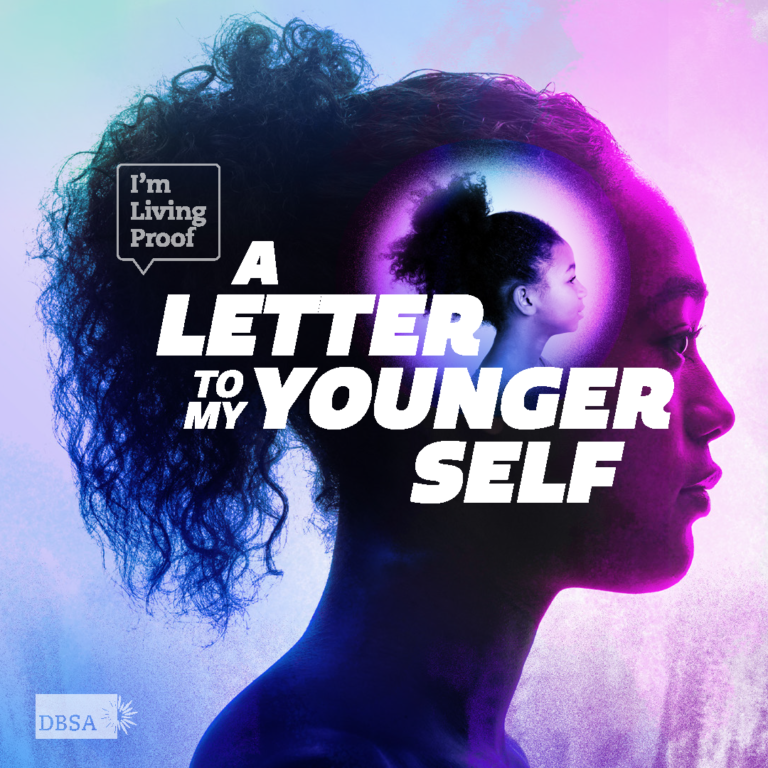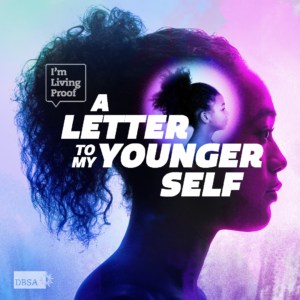 The blog will feature letters from young adults, and the podcast series will feature their letters read aloud and intimate one-on-one interviews where we'll ask questions including what led them to share their story, what their experience has been with depression or bipolar, and what living in wellness means for them. While the path to wellness isn't always linear, these young adults will share their challenges and successes. Their stories will help us understand what young adults have experienced and hopefully inspire younger generations to seek help and know they are not alone—that they too, can be living proof.    
DBSA is excited about the launch of the I'm Living Proof: A Letter to My Younger Self blog and podcast series that will premiere May 1 in honor of Mental Health Awareness month. You can find more information at www.dbsalliance.org/ImLivingProof. 

How the American Rescue Plan will help peers
DBSA has been at the forefront of advocacy for access to high-quality mental health services since the beginning of the COVID public health emergency. The American Rescue Plan Act of 2021 includes several important provisions to ensure increased access to mental health care and services, which our advocacy efforts helped to secure. In the coming weeks, we will highlight some of these opportunities, including approximately $4 billion in funding for mental health treatment and prevention efforts to reduce incidence of serious mental health conditions. This funding creates opportunities for organizations to partner with state mental health agencies.
DBSA recommends that our advocates reach out to their state mental health authority for more information. A list of agencies organized by state is available here.  A list of the additional block grants is available on the SAMHSA website.  
Your voice can make a difference
Please support this work by forwarding this message to colleagues, family, and friends who are passionate about this cause to assist us in this grassroots effort to make our voices heard.
To continue to receive communications about issues that support access to quality mental health care:
Mood Crew Monthly: Confidence Cape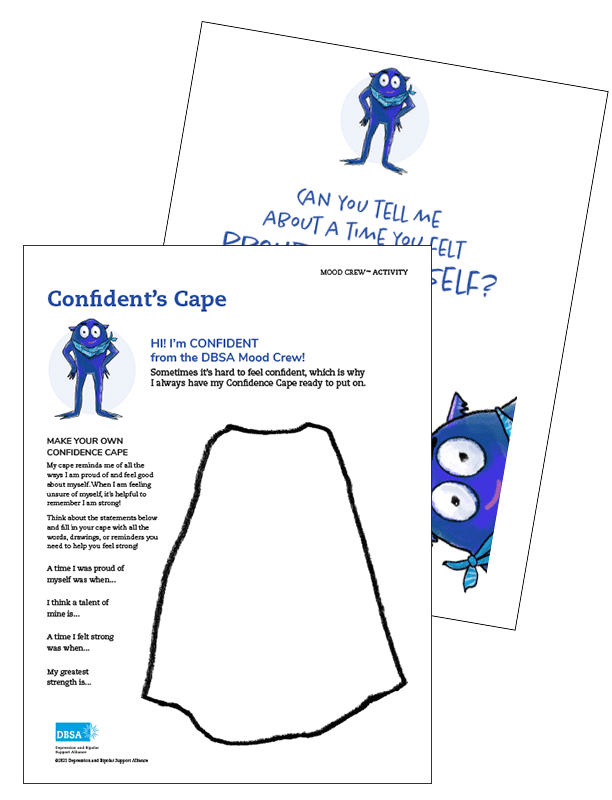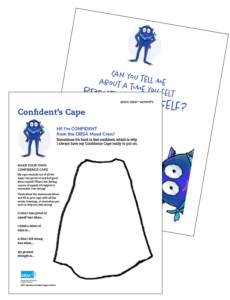 Confident is here with new Question Cards and a Cape you can use to facilitate strengths-based conversations with your child. For children feeling unsure, shy, or worried, being reminded of their strengths can be a helpful confidence-building activity. The worksheet and cards are meant to be conversation starters that you can use in various ways to get children thinking about their strengths!
Make a cape with Confident and cover yourself in pride!
Staying healthy with shift work 
Managing a mental condition can be challenging for anyone who works. Working a shift outside the typical 9-5 Monday-Friday schedule can make the challenge even more difficult. 
Mental health conditions, along with shift work, impact other areas of wellness. That's one of the guiding principles behind the DBSA Wellness Wheel. Symptoms of depression and bipolar disorder can negatively impact your physical wellness by interfering with your sleep, nutrition, and energy levels. Mental health symptoms can also impact your social wellness by making it more challenging to build and keep relationships.
Just as mental health conditions can affect your physical and social wellness, so the reverse can also be true. For example, not getting enough sleep or getting into an argument with a loved one can negatively impact your mental health. Because of irregular sleep and work schedules, shift work can add even more challenges to finding and maintaining physical and social wellness.
Two members of DBSA's Young Adult Council discuss their experiences with shift work and share the tips and tricks they have learned along the way.
Tax Day, May 17, is almost here
For many, tax time brings financial anxieties. When you live with depression or bipolar, this stress can become overwhelming.
Here are three resources DBSA offers to assist with your personal financial planning:
The

Wellness Wheel for Financial Wellness

, which includes tips, worksheets, and additional tools you can find online.

FreeWill

, a free website with which DBSA has partnered to simplify the process of creating a will.

The DBSA podcast

"Focusing on finances with Dr. Thomas Richardson,"

a helpful dialogue with a clinical psychologist who lives with bipolar disorder.
Keep checking back on our website year-round for new tools as we continue to add to our tips for financial wellness.

Wellness Tips from the DBSA Wellness Wheel
Physical
Going to bed and waking up at the same time each day can be helpful for our moods. Consider sticking to a sleep and wake schedule that works well for you.
Environmental
Feeling restless? Need some inspiration? Spending time outdoors can be mood-lifting. Try taking a walk around the block or spending some time in a local park if you need some different scenery.
Spiritual
Calming practices like smelling something pleasant, drinking a warm cup of tea, or listening to sounds of rain or the ocean can be an easy way to unwind. Consider adding a calming ritual to your routine to support your spiritual wellness.
Continue your path to wellness with the DBSA Wellness Toolbox. Explore each aspect of your wellness by creating your own Wellness Wheel and keep track of your mood and wellbeing with the Wellness Tracker.
From bphope: Ask the doctor – Staying optimistic through the "long haul"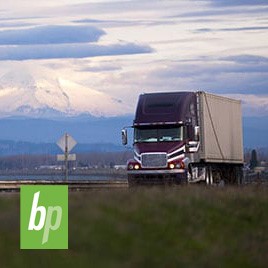 People who have bipolar and are also dealing with COVID-19 must communicate with both their medical and their mental health care providers. Read the full article on their website.

May is Mental Health Awareness Month
We believe that your path to wellness is unique to you. In May, DBSA will feature tools and resources to help you chart your own wellness course. Follow us on Facebook, Twitter, and Instagram to see all of our activities during Mental Health Awareness Month.